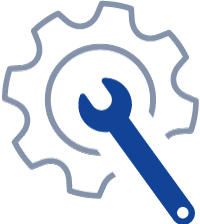 Maintenance services
AES provides high quality maintenance services, including all types of maintenance: preventive maintenance, corrective maintenance and repairs, as well as warranty management or service bulletin implementation, dedicated to :
• Ground Support Equipment (GSE)
• Pre-conditioned Air Units (PCA)
• Fixed Electrical Ground Power Units (FEGP).
Those services are delivered with expert teams airside and in workshops managed with seamless maintenance and robust processes.
AES has designed its own set of Computerized Management Maintenance System (CMMS) to deliver robust processes, answering OEM standard requirement and providing full set of KPIs. Those high quality maintenance services protect and enhance your equipment lifetime.